Heberts Recycling Inc

Heberts Recycling Inc is a 3rd generation family business started in Miramichi, New Brunswick in the 1950's as a collection depot and has grown throughout Atlantic Canada. Heberts Recycling now operates three processing plants in Atlantic Canada and has 55 employees.

KC Sargent Sales, a sister company, is responsible for the development and distribution of the Enviropactor™.

The Enviropactor™ was developed as a response to rising fuel costs and to increase efficiency in transporting recyclable containers. Heberts Recycling trucks have been equipped with the Enviropactor™ which is now available to the recycling industry across North America.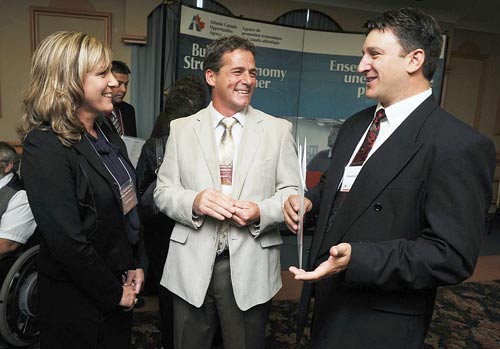 K.C. Sargent Sales' Vice President Carole Sargent and her husband, President Kevin Sargent, celebrate the company's success with ACOA Account Manager Claude Schofield (at right) at ACOA's Art of Success III reception.