The Enviropactor™ system is flexible and can be adapted for application in all urban and rural situations. Ninety per cent of used beverage containers (UBC), glass & steel excepted, can be easily compacted at point of pick-up and KC Sargent Sales has developed the Enviropactor™ for this purpose.
Compaction
Compaction occurs in 2 stages: vertically, fixed at a 2:1 ratio, and horizontally, variable for up to a further 2:1 depending on back pressure created by the preceding bag. Compacted tote bags are secured by 2 wire ties. The Enviropactor™ can achieve a maximum compression rate of up to 4:1.
The Enviropactor™, which is easily installed in a conventional transport trailer, is powered hydraulically and controlled by a 12 volt PLC.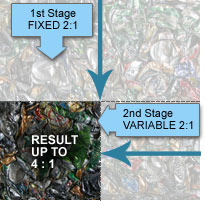 Enviropactor™ Loading
Full bags (except glass and steel) weighing up to 60lb, are side loaded. The loading chamber is closed with a steel door and the automatic cycle started. Totes of glass or steel are loaded conventionally using a pallet jack.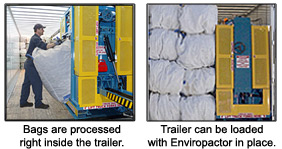 Enviropactor™ Operation
While the machine cycles (approx. 30 seconds) the operator is free to fetch more product. Compacted bags are pushed towards the front of the trailer for later stacking.
Learn more about the Enviropactor's™ cost saving benefits to the recycling industry as well as green benefits.